Southampton Trams
This part of the website looks at the history of the Southampton Corporation Tramways which operated from 1879 to 1949 and Southampton Tram Group which looks after two surviving Southampton Trams - 11 & 38 and Lisbon Tram 715
---
Southampton Tram Group
In the early 1970s the Southampton City Museum thought it would be a good idea, if they could find a tram to put on display to show local people how their forefathers went to work and play. An approach to the local Industrial Archaeology Group resulted in the discovery, in 1973, of a tram body in a garden on the outskirts of Romsey about 8 miles from the City. This turned out to be car No 57 built locally in the Portswood tramcar workshops in 1910 as an open top 'knifeboard' seat tram designed to pass under the Bargate arch. A unit from the local Royal Corps of Transport at Marchwood recovered the body in 1975 as an exercise and it went into a garage in a council yard not far from its original birthplace in Portswood.  
The original plan had been to use local authority funding to restore the car for display but, unfortunately, this finance was soon looking very remote. Another approach to the IA group resulted in the formation of the voluntary Tram 57 Project to try and kick start some restoration work. They tidied up the car and held an open day in 1977 – about 200 people visited to see a rather sorry looking 57, but a couple of visitors told of other tram bodies in the local area. They followed up a number of leads and came across the astonishing discovery of a complete top covered 'Bargate' car, fleet number 11, on a private estate near Alresford in the east of Hampshire. Another tip-off led us to the body of car 38 in a field near Fordingbridge on the western edge of the county.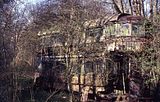 Car 11 as found in 1977
Both these finds showed potential for restoration to running condition (unlike 57) and arrangements were made to have them transported into a more suitable workshop on a British Gas site at Millbrook, Southampton. Both bodies moved in towards the end of 1979 and the group set about the task of survey to determine a practical restoration programme. In 1985 the body of car 57 was moved there for more suitable storage at Town Depot near Itchen Bridge, although no work was ever done there.  
Their Ultimate Goal?
The Southampton Tram Group exists solely to support the restoration of the 3 trams for eventual display in the city of Southampton. The vehicles are owned by the Local Authority so that there is no risk to their future if thier group folds up. The City has accepted responsibility for security and storage should this happen. However, apart from the lease of their original premises and occasional small grants, they have had to raise all their own funding to support the restoration costs.  
Over the years they have worked with Southampton City Council to promote a number of schemes that would have had the potential to provide a display base and possible short operating line for the two cars that could run. So far nothing concrete has been developed, either for reasons of location or cost or both. Things may be about to change following a new Cultural Strategy initiative which includes plans for a feasibility study into providing a site to tell the 'Story of Southampton' and take visitors on a trip through local history from Roman times to the present day. Southampton has a rich transport history from the last two centuries including aviation, shipping, railways, buses and trams.  
How Far Have They Got?
Well, in Crich terms they may not seem to have achieved much in 30 years when the TMS workshop could turn out a major restoration in under three! But then there are only about 4 or 5 regular volunteers and they sometimes only managed a work session once a month! So, in effect, they have few volunteers, almost no money and no clear completion date to aim for, but they keep going on sheer enthusiasm. They long ago made the decision to concentrate their limited resources on the unique dome roof car 11, so little work has been done to car 38 apart from a new under frame and floor.  
Car 11 is technically known as a TCB car – this stands for Top Covered Bargate, indicating that it was able to pass under the ancient pre-Medieval arch that straddles Southampton's main street. In fact the car, built at Portswood, went into service in April 1923 as an open top vehicle with garden seats on the upper deck. After the success of Percy Baker's new design of top cover to fit under the Bargate later the same year, 11 and her four sisters were quickly given top covers to the same design. Car 11 is about 80% complete and we have all the major components including a rebuilt small-wheel truck. They are at the fitting-out stage, with platform controls, sanding gear, lifeguards and some windows still to be completed.

Car 11 being moved into store September 2003
Car 38 was built by Hurst Nelson in 1903 in the same batch as car 45 – thus these trams celebrated their centenary in 2003. Their aim is to eventually rebuild 38 to its intermediate condition circa 1913 with 4 windows, but still retaining the flat dash and uncanopied, in which form it should complement rather than duplicate 45. They have an ex-Porto truck for car 38 and controllers, and although much of the upper deck will need to be reconstructed, amazingly the trolley mast survived.

Car 38 as found in 1979
What About Tram 57?
The one vehicle not in Southampton is car 57, which is in store at the County Museums premises at Chilcomb, near Winchester. 57 was in too poor a condition to restore to running order, but their plan was to perhaps use it to show how a tram is constructed by having some cut-away sections and maybe with one end in 'as found' condition with the other fully (cosmetically) restored. Sadly 57 is no longer in their collection.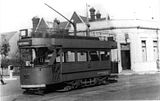 Car 57 at Portswood Junction during WW2.
Photo W J Haynes
What now for Southampton Tram Group?
Unfortunately, Southampton Tram Group had to quit the Millbrook site in 2003 which had been their home for 24 years. The other car in their collection is Lisbon Tram 715, bought as a source as spares, but paradoxically, it is almost in running condition! The trams and components were stored in various buildings around the city and, sadly they were not able to work or receive visitors. However, they have now moved the vehicles (less car 57) to the new workshop facilities in the Eastern Docks and welcome visitors by prior arrangement only due to port security conditions. For more information about Southampton Tram Group please contact Nigel Smith -
lnigel.smith@btinternet.com
or via their
Facebook Page
.
Southampton 11 & 38 in 2011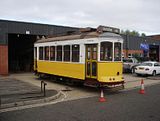 Lisbon 715 outside a Council store
History of Southampton Trams can be found Here
Thanks to Nigel Smith for providing this information about the Southampton Tram Group.
(All photos are credited to Southampton Tram Group unless otherwise credited)